kansas patriot guard, kansas patriot guard, kansas patriot guard
Patriot Guard Mission Completed
Fire Chief Jonathan Siemers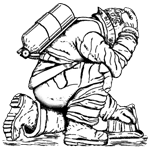 Fire Chief Siemers died on 21 February 2010 in the Line of Duty
while responding to an apartment fire.
Chief Siemers retired from Army National Guard with
the rank of Sergeant First Class, and then served
his community as a firefighter and then was the
Fire Chief of Clay Center, Kansas.
Thank you to everyone who supported the funeral mission to honor
Fire Chief Siemers in Clay Center, KS on Friday 26 February 2010.
The Siemers family and friends, and his fellow firefighters extend
their appreciation and thanks to everyone who attended, as well
as to those who could not participate but offered their prayers.
The Patriot Guard extends a special thank-you to all the local
Law Enforcement officers and firefighters who escorted
Fallen Hero Siemers and his family from the funeral home to the
funeral service and cemetery.