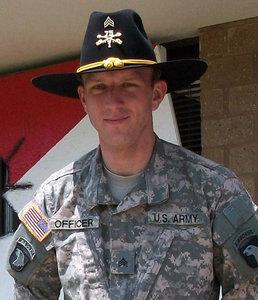 Sergeant Justin A. Officer, 26, died Sept. 29 in Kandahar province, Afghanistan, of wounds suffered when his unit was struck with an improvised explosive device while on a dismounted foot patrol. Justin was a Cavalry Scout assigned to Bravo Troop, 1st Squadron, 75th Cavalry Regiment, 2nd Brigade Combat Team, 101st Airborne Division (Air Assault), Fort Campbell, Ky. He joined the Army in March 2004 and arrived at Fort Campbell in July 2004. His awards and decorations include: Army Commendation Medal; Army Achievement Medal; Meritorious Unit Citation; Army Good Conduct Medal; National Defense Service Medal; Iraq Campaign Medal; Global War on Terrorism Service Medal; Army Service Ribbon; Overseas Service Ribbon; Combat Action Badge and Air Assault Badge. Justin served two tours of duty in Iraq prior to this tour in Afghanistan. His devotion to "duty, honor, country" is an inspiration to every American citizen.
Sgt Officer was listed by the Department of Defense as a resident of Wichita, KS. Services for Justin will be in Colorado Springs where his parents reside.
The Patriot Guard extends our sincere condolences to the family of Sgt. Officer.
God bless Justin, his family and friends, and his fellow soldiers.
Terry "Darkhorse" Houck
Patriot Guard Kansas - State Captain