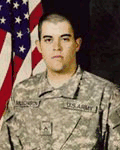 Sunday Aug. 12: Visitation Watch
1600 hrs -1900 hrs. D.W. Newcomers Funeral Chapel
11200 Metcalf - Overland Park, KS
Please arrive by 1530 hrs to set up Flag Line and Avenue of flags
For mourners to pass by. Come when you can, leave when you must.
Patriot Guard may rotate in and out for this Visitation Watch.
Monday Aug. 13: Funeral Mission and escort Ft. Leavenworth
0745 hrs - Staging Opens - 105th & Metcalf - Parking lot next to Denny's.
0830hrs - Mission Briefing
0845 hrs - Depart for DW Newcomers - 11200 Metcalf.

** Following the services, we will escort family and Hearse to Ft. Leavenworth for internment. *** Helmets Are Required to go on base. NO EXCEPTIONS Also , eye protections, full fingered gloves, long pants, long sleeves, over ankle boots. The Provost Marshal states that if anyone tries to enter the base again without a helmet, they will be pulled over and denied access. Furthermore if this happens, we will no longer have the privilege of group access. In the future each biker will need to be individually inspected before access is granted. Needless to say, this will cause a tremendous strain on our missions.