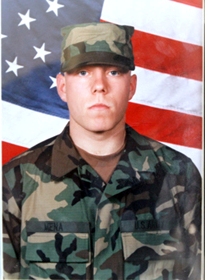 Thank you to everyone who attended the funeral mission to honor Sgt Ralph Mena in Hutchinson, KS on 17 May 2010.
The Mena family and friends, CAO SFC Travis McKenzie, and BG Webster extend their appreciation and thanks to everyone who were present, as well as to those who could not participate but offered their prayers.

The Patriot Guard extends a special thank-you to the Hutchinson Police Department and especially the motorcycle officers who escorted Fallen Hero Sgt Mena and his family members from the funeral home to the funeral service.
Thank you Patriot Guard for your continued commitment to hold the American Flag and stand guard for our Fallen Heroes.
Thank you Patriot Guard Road Guards for leading and keeping us safe going to and from the mission. As always, you do an outstanding job.

There are no Fallen Hero funeral missions in Kansas at this time.

Please check this site frequently for information regarding active missions.

With respect,
Darkhorse