The Patriot Guard paid tribute to SSGT Bryant Mackey and his family with a two-part mission.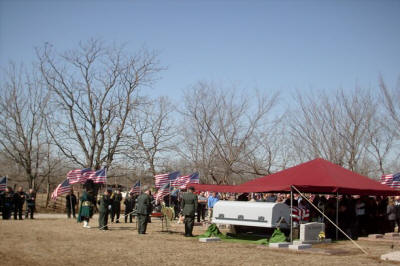 First part was the escort of SSGT Mackey from the Independence KS Municipal Airport to Countryside Funeral Home in Fredonia KS on Wednesday 27 February 2008. Riders from Independence, Caney, Fredonia, Yates Center, Chanute, and the Wichita area provided escort.
Second part was the funeral, followed by the graveside service on Friday 29 February 2008 in Fredonia, KS and Howard, KS. An estimated 300 or more motorcycles plus a couple dozen cages from all over Kansas and Missouri arrived in Fredonia early Friday morning to stand guard at the funeral. Following the funeral, we escorted SSGT Mackey to graveside services in Howard where he received full military honors provided by the US Army from Fort Riley. US Army Brigadier General David Quantock presented SSGT Mackey's wife, Marie, and his parents a Purple Heart, Bronze Star and many other heroic medals that Mackey had earned. Kansas Highway State Troopers were present in large numbers. SSGT Mackey's brother is a Master Trooper. They provided an honor guard at the funeral.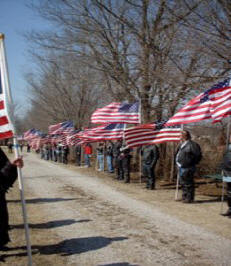 All of Fredonia's residents lined the streets as we escorted SSGT Mackey, family, and friends through town on our way to Howard. The local schools dismissed classes so that they could participate. The Fire Departments of Fredonia and Howard displayed US flags from their ladder trucks, and parked their trucks along the route. Construction companies displayed US flags from tall cranes. As emotional as it is to the townspeople to see us ride by, it was even more emotional to all of us to see adults and children lining the streets, waving the US flag, saluting, or placing a hand over their heart to show respect to SSGT Mackey and his family. The same thing happened as we drove down the highway. All vehicles pulled over and people stood beside their automobiles. Residents of Severy came out to Highway 99 to salute SSGT Mackey was we passed by. Howard residents and school students lined the streets as we drove through town on our way to the cemetery.
My personal thanks go to the Patriot Guard co-captains, ride captains, road guards, volunteer honor guards, and the staging crew who line up the motorcycles. Thanks also to every person who supported this Fallen Hero mission. You showed great honor by holding the American Flag to honor SSGT Mackey and his family. Some of you took a vacation day, some of you took an unpaid day, and some of you gave up a day of leisure to participate in the mission. We are grateful to each and every one of you who took time to be there. It was an honor to stand with you. Thank you to Charles Liles, our Patriot Guard bagpiper, for his inspiring music during the funeral and graveside services.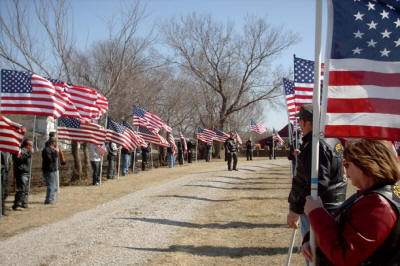 We especially thank the city, county, and state law enforcement for making the mission safe and uneventful. A warm thanks to the Fredonia VFW and Women's Auxiliary for the hot coffee, donuts, and water they provided at the staging area and funeral home. Every town and county between Wichita and Fredonia provided police escort as we passed through on our way to Fredonia. State troopers also helped out immensely. They blocked highway traffic as we rode in procession to the funeral, and they provided escort along with city and county police on the trip to Howard.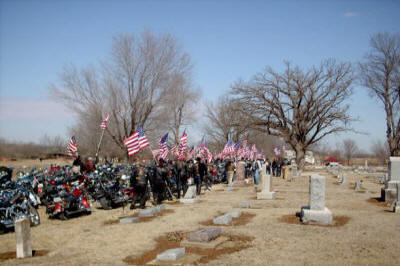 SSGT Mackey's widow and parents asked us to convey their heartfelt thanks and appreciation to all of you for the support you've shown them this past week as you honored their husband and son. They thank you for the donations you gave when we passed the hat at the Fredonia staging area. Your generosity will not be forgotten. They will remember your selflessness forever.
Thank you Gary "Grasshopper" Mclean for being a Co-Ride Captain with me, your leadership was a great help.
I say to all of you "Job well done. Mission accomplished."
Respectfully,