The Plane landed at 945 am on Monday, July 30 -
Escort Details - The Plane landed. PG stood at attention and presented arms while the remains were transferred. We saddled up and put LTC HUNT as the lead rider along side a US Flag, in the front of the Hearse. Two Riders with American flags behind the Hearse, proceeded by family and the Patriot Guard. All in all, a VERY good show of respect! Thanks to ALL!!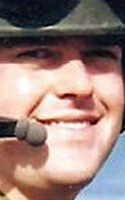 At the funeral home, LEO closed the street, we dismounted and rendered a salute while the military honors team transferred the remains into the funeral home. I believe AJ presented the pilots with something, we will have to confirm what it was...
~~~~~~~~~~

COMPLETED MISSION REPORT:

~~~~~~~~~~

Yes, in fact AJ did present the pilots with a token of appreciation.

Tuesday, July 31st. Visitation occurred on time. Thirty great Americans rotated in manning the flag-line until the family departed. I do believe that was the busiest that street has been for a very long time as it appeared the community drove through the avenue of flags to pay their last respects. Thank you Leavenworth.

Thursday, August 2nd. UNBELIEVABLE. KANSAS PATRIOT GUARD I am humbled by the amount of people and the amount of bikes that showed for staging on a workday. Seventeen FIRST TIME flag line participants, riders from Nebraska, Missouri, Kansas and a transplanted Kentucky Blue Knight. Riders from the west scooted through a real frog-strangler of a storm around Topeka (so much so, puddles formed around them during the brief). KPG

—42 founder's patches were earned that day.

I could list the quantities such as 111 bikes, 3 trikes, 9 cages

—with 100 flags on hand from post 370 and 200 flags on hand courtesy of 1st District Kansas American Legion—and the flag line was 150 deep to pay our last respects to the SGT Finch's family. But I'm not too good at counting; in fact, I stopped counting bikes after two. What I would like to share with you are two demonstrated measures of ultimate respect for Courtney.

The first display was the uniformed soldiers that rode the missing man ride from the funeral home to the interment shelter. Thank you Erp for getting a crew together to make that happen. Also, a friend of Courtney and his family, whom rides a scooter, was found and participated in the formation. Thank you Don.

The second display of respect was when Mrs. Unger (CPL David Unger's mother) distributed water at the staging area and then followed the procession and then manned the FIRST spot on the flag line for SGT Courtney Finch and his surviving family. Thank you Mrs. Unger.

SGT Courtney Finch's Family graciously allowed flag-line participants to attend the wake at the Leavenworth VFW. Gold Star Banners were presented to Courtney's Mother and Father and a brief exchange occurred that both Mom and Dad now know what an extended family Courtney will forever have and how much we appreciate and how grateful we are towards Courtney and his family.

Thank you Mechanic, you did a fine job!!

~~~~~~~~~~

END MISSION REPORT