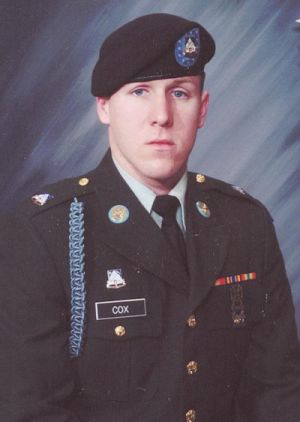 Thank you to everyone who attended the funeral mission to honor Spc Daniel Cox in Parsons, KS on 21 Sept. The family of this Fallen Hero extend their heartfelt appreciation and thanks to everyone who were present, as well as to those who could not participate but offered their prayers. We will never forget this brave young man.
The Patriot Guard extends a special thank-you to all the Law Enforcement agencies who escorted Daniel, his family, and the Patriot Guard during this mission.
__________________________________________
US Army Specialist Daniel L. Cox, 23, of Parsons, Kansas was killed in action on 12 September 2009 in Wardak Province, Afghanistan. Spc Cox was serving a second tour of duty for the United States of America fighting terrorism in Operation Enduring Freedom, protecting our families and our freedom. Spc Cox was one of two soldiers who died of wounds sustained when their enemy forces attacked their combat patrol vehicle with an improvised explosive device and small arms fire. Daniel was a highly decorated courageous soldier and his sacrifice will not be forgotten. Spc Cox was assigned to 2nd Battalion, 87th Infantry Regiment, 3rd Brigade Combat Team, 10th Mountain (Light Infantry) out of Fort Drum, NY. Born July 19, 1986, in Winfield, KS, then moved with his family to Parsons when he was in the fifth grade. He graduated from Parsons High School in 2005.
The family invited the Patriot Guard to attend Daniel's Full Military Honors funeral.
The Patriot Guard extends our sincere sympathy to the Family. God bless Daniel and his family.
Thank you to all that attended this mission to support his family, show your respect, and honor this Fallen Hero.