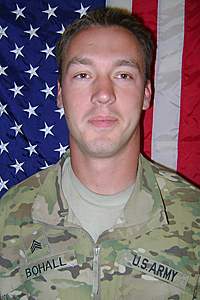 US Army Sgt. Thomas A. Bohall, 25, died 26 May 2011 in Afghanistan with five other soldiers
when insurgents attacked their unit with an improvised explosive device in Kandahar province.
He was a highly-decorated infantryman, had served two tours in Iraq, and was serving his
second tour in Afghanistan when he was killed in action. He was a resident of Bel Aire,
KS, until moving to San Antonio, TX, where he completed his junior and senior years of
high school, graduating at Ronald Reagan High School.
Sgt. Bohall joined the Army in August 2005, and was assigned to Fort Campbell in Kentucky
in October 2008. He was assigned to the 4th Battalion, 101st Aviation Regiment, 159th
Combat Aviation Brigade, 101st Airborne Division (Air Assault) at Fort Campbell. He served
in missions in Afghanistan and Iraq. His awards and decorations include: Air Medal;
Army Achievement Medal; Army Good Conduct Medal; National Defense Service Medal;
Afghanistan Campaign Medal; Iraq Campaign Medal; Global War on Terrorism Service Medal;
Noncommissioned Officer Professional Development Ribbon; Army Service Ribbon;
Overseas Service Ribbon; North Atlantic Treaty Organization Medal; Air Assault Badge;
Parachutist Badge; Pathfinder Badge and Combat Infantryman Badge.
Funeral services for Sgt. Bohall are scheduled for Wednesday 08 June 2011
in San Antonio, Texas, with burial at Fort Sam Houston National Cemetery.
The Patriot Guard extends our sincere condolences to the family of Sgt. Bohall.
God bless Sgt. Bohall, his family and friends, and his fellow soldiers. 
Terry "Darkhorse" Houck
Patriot Guard State Captain - Kansas