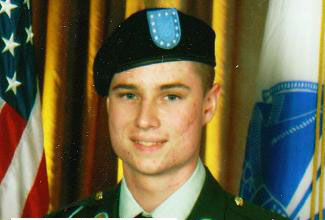 Private First Class Cody G. Baker, 19, Holton, Kansas was one of two soldiers
killed in action 03 August 2011 while supporting Operation Enduring Freedom in
Wardak Province, Afghanistan. Enemy forces attacked their vehicle with an
improvised explosive device. Pfc Baker was assigned to 2nd Battalion,
30th Infantry Regiment, 4th Brigade Combat Team, 10th Mountain Division,
Fort Polk, Louisiana. Cody was a highly decorated courageous soldier
whose sacrifice will never be forgotten.
______________________________
Thank you to everyone who attended missions to honor Pfc Cody Baker in Holton, KS. We escorted Cody on 11 August 2011 from Forbes Airfield to his hometown of Holton. On 13 August 2011 we escorted Cody from the funeral home to the church and attended his funeral service, then escorted Cody to his final resting place.
Cody's family and friends extend their appreciation and thanks to everyone who were present, as well as to those who could not participate but offered their prayers.
We thank all Patriot Guard members for your continued commitment to hold the American Flag and stand guard for our Fallen Heroes. Everyone did an outstanding job. Thank you to the Road Guards for leading and keeping us safe going to and from the missions, and the Staging Crew for all they do, including managing the motorcycle lineup, parking, and the flag lines. We extend a special thank-you to all Law Enforcement Officers who provided safe escort to our destinations on each part of this mission.


Strength and Honor.

Darkhorse
Link to Final Itinerary Document --> here