We knew he was a hero, but apparently he was more of a hero than we all knew.
Story from KMBC TV in Kansas City:
Mo. Navy Medic Helps Save Iraqi Girl
Chris Walsh Met Girl After Explosion
KANSAS CITY, Mo. --
A Navy medic from Missouri is credited with saving the life of an Iraqi girl, KMBC's Jim Flink reported Thursday.
Navy Medic Chris Walsh was killed in action in September. Before he died, he became the guardian angel of a girl named Mariam, who has a rare intestinal disorder.
Walsh met Mariam during combat, just after an improvised explosive device was detonated.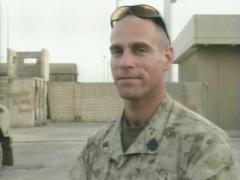 "So they all piled out (of the military vehicle) chasing the trigger man, and all of a sudden a family comes out of their house and the mother is crying, 'Baby sick,'" U.S. Marine Corps Capt. Sean Donovan said. "And it was very clear that this little girl desperately needed care."
Walsh and his comrades began a clandestine operation to check up on Mariam while on patrol.
"We showed up in the middle of the night, in the middle of the morning -- they never knew when we were coming," Staff Sgt. Ed Ewing said.
On Sept. 4, Walsh and two other soldiers were killed in another IED attack.
"To honor Chris, we decided that we had to go through with the mission (to help Mariam)," Marine Chaplain Marc Bishop said.
Eventually, Mariam was brought to Massachusetts General Hospital, where she received life-saving surgery.
"She's doing well. She's socializing quite well. She has a different life," said Dr. Rafael Pieretti with Massachusetts General Hospital.
Walsh grew up in St. Louis, but his mother, brother and sister live in the Kansas City area. They said they believe that Walsh's memory will live on in Mariam.
"It made me feel like Chris was there. He wanted to make a difference in others' lives," said Maureen Walsh, Chris' mother.