Patriot Guard Mission Accomplished
Lance CPL Brian A. Escalante, Dodge City, KS
Services Tuesday, February 27, 2007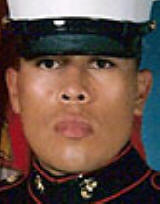 Lance Cpl. Brian A. Escalante, 25, of Dodge City, Kan., died Feb. 17 while conducting combat operations in Al Anbar province, Iraq. He was assigned to 3rd Battalion, 4th Marine Regiment, 1st Marine Division, I Marine Expeditionary Force, Twenty nine Palms, Calif.
On Sunday, 25 February 2007, the Patriot Guard gathered at Wichita Mid-Continent Airport to meet the jet bringing LCPL Brian Escalante home to Kansas. The jet arrived at 14:00 in Wichita with Brian and his military escort. Brian's father, sister, and other members of the Escalante family, and a US Marine Honor Military Escort, were present at the arrival. Riders escorted the hearse and family to Goddard. Two riders led the family and hearse on their journey to Dodge City. Approximately 60 motorcycles and additional automobiles escorted the hearse.

We extend our thanks to USMC 1st Sgt Cowprthwaite, the Military Family Casualty Officer, for assisting the family and facilitating the escort. Many thanks go to area ALR/PG members who made it a priority to provide escort for Brian and his family.

God bless Brian's wife, parents, and the entire Escalante family.

Mission completed at 16:00, 25 February 2007.


Very Respectfully,
Terry "Darkhorse" Houck
Kansas Patriot Guard State Captain
God Bless Brian and the Escalante family.