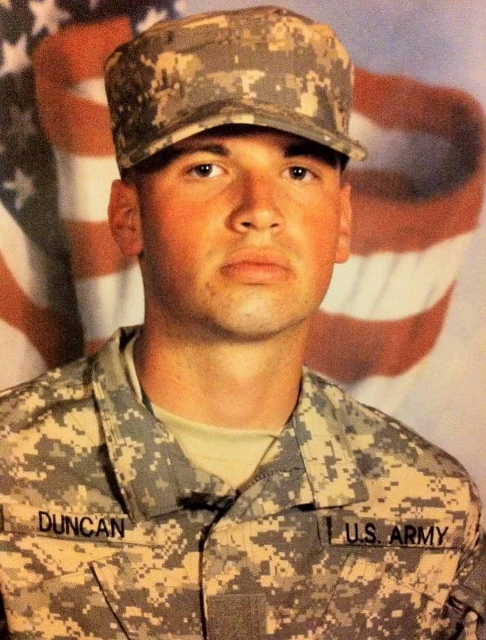 US Army Reserve Spc Spencer Duncan, 21, from Olathe, Kansas was one of
30 Special Forces killed in action on 06 August 2011 during combat operations
in Afghanistan. He served as a door gunner and was a member of Bravo
Company, 7th Battalion, 158th Aviation Regiment. Funeral plans are pending.

The Patriot Guard is invited to attend Spencer's funeral.
The Patriot Guard extends our sincere condolences to Spencer's family.

Patriot Guard Mission Ride Captain:
Deems "DOC" Peterson
chevytruck@everestkc.net

Airport Escort: Tuesday 16 August 2011
0800 hr (08:00 am) - Assemble at New Century Airfield (click to view MAP)
244th Aviation Brigade
221 Gardner Driver
Gardner, KS
** Watch for possible time changes...

The Patriot Guard will escort Spc Duncan and family from New Century accompanied by the Military, the Olathe Police, Olathe Fire Department, and JoCo Sheriff Office. We will travel past his former Junior and Senior High Schools to the funeral home at 143rd and Blackbob.

Funeral Mission: Thursday - August 18, 2011
1030 hrs - Staging
Indian Creek Community Church
12480 S. Blackbob Road
Olathe, KS
(Take exit 220 off I-35. Travel East .5 miles on 119th Street
Travel South on Blackbob Road .7 miles)
1100 hrs - Mission Briefing
1115 hrs - Flag Line in Place
1200 hrs - Funeral Services
Graveside Service Briefing after Funeral Services Start.
Escort Family to Ft. Leavenworth via K-7
Helmets, Long Sleeves, Long Pants, Gloves & safety gear enforced for admittance on Fort