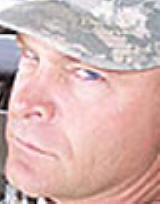 US Army MSG Bernard L. Deghand, 42 years old, of Mayetta, Kansas, died on September 15 in Spira, Afghanistan, of injuries suffered when his unit encountered enemy forces using small arms and rocket-propelled grenade fire during combat operations. Sgt. Deghand was assigned to the Army National Guard 35th Division Artillery, Hutchinson, Kansas. Sgt. Deghand's wife requested the presence of the Patriot Guard at his funeral and graveside service. Funeral is at 1100 hours (11am) at Sacred Heart Catholic Church, 333 NE Freeman Avenue, Topeka, KS at the intersection of Seward and Freeman Avenues. Burial is at Penwell Gable Memorial Park (6th and Gage) in Topeka. Bernard fought and died to protect our families and our freedom. If you can, please make this mission to support his family and honor this fallen hero.
Baghdad Itinerary: Though not in our AO, SGT Deghand and SGT Fuga where once member of our unit. Many of use here in 2-137th IN know these two Soldiers. We are having a Memorial Service here in Baghdad this Sunday for both of them. Thanks a million again for the Patriot Guard. From "Lee", Volunteer 9
STAGING & DEPARTURE for the Derby, Mulvane, Haysville, Rosehill, Wichita, Andover, ETC. area Patriot Guard: (Riders from towns north and east can join along the way.)
0400 hr (4AM) Tuesday 26 September 2006 - meet at the Derby Quik Trip 71st 7 K15
0430 hr (430AM) Departure (2 & 4 wheelers) - Take K15 to Turnpike 35 entrance at Boeing
0545 hr 1st Stop: - Matfield Green Service Area (65 mile) - meet more Patriot Guard - Restroom/Coffee
0600 hr Departure - ride to service stop north of Emporia
0630 hr 2nd Stop - Turnpike Service Area north of Emporia (30 mile) Fuel/Restroom/Coffee
0700 hr - Departure to Topeka exit, (45 mile) Be prepared to pay approx. $6. Go straight through on 470/75 to I-70 going east, then exit from I-70 north on 75 to US Highway 24, then east to Post 400. 0745 hr 3rd Stop: Staging Area - American Legion Post 400, 3029 NW US Highway 24, Topeka, KS 0800 hr Ride Briefing at Post 400 by DC "Big Dog" Hannah, National PGR Ride Captain, and Larry "Sardog" Levindofsky, ALR Post 400 Director and Patriot Guard Ride Captain (See Big Dog's information below.)
Eldorado Itinerary:

 ALR 81 - 

We will stage at QT Tuesday morning, Sept. 26th, at 0515.  Kickstands up at 0530.  We will make a stop at
the Emporia service area for anyone who needs a break. I will add the staging info to the event list for the next update. From Ron 
STAGING & DEPARTURE: for Junction City Area:
0600 hrs 26 Sep 06 (Tuesday)
- Sapp Bro's Truck Stop located at I-70 Exit #296 (I-70 & Hwy 77) with an 0615 hr SP. Be fueled and ready to rock and roll when you arrive (or arrive early enough to top off before the 0600 hr briefing). For planning purposes please let me know if you will be able to make it.
We will travel I-70 east to Hwy 75 north to the Topeka staging area.
STAGING & DEPARTURE for Topeka Area:
Staging will be at American Legion Post 400, 3029 NW US Highway 24
0730: Staging area opens. R/C on site.
0830: Ride Briefing and Equipment Check
0845: Rollout to the Mission, Sacred Heart Catholic Church (333 NE Freeman Avenue)
0900: On station. 1100: Services begin. Procession to cemetery follows. Penwell Gable Memorial Park (6th and Gage Streets, Topeka)
Map locator for American Legion Post 400: