the patriot guard, the patriot guard, the patriot guard


In Memory of Fallen Hero
US Army Spc. James R. Burnett, Jr.
KIA 16 November 2011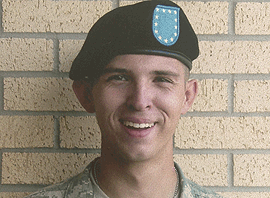 Spc. James R. Burnett Jr., 21, Wichita, KS, was killed in action on 16 November 2011
in Kandahar province, Afghanistan. He died after an improvised explosive device (IED)
was detonated near his unit's vehicle while they were on patrol. He was assigned to
1st Battalion, 5th Infantry Regiment, 1st Stryker Brigade Combat Team, 25th Infantry
Division, stationed in Fort Wainwright, Alaska. Spc. Burnett joined the Army in 2009
after he graduated from Clearwater High School in Clearwater, KS.

Memorial services were held for Spc. Burnett at Community Church of Christ in
Lowndes, Missouri on Saturday, 26 November 2011. God bless Spc. Burnett.